Posts Tagged 'Seagate'
Unlock FDE
InVirtuel constantly brings innovative solutions for the data recovery market, HDDSYNC is not a unique development.
Unlock FDE is a software solution used by our technicians, enabling to access data on encrypted hard drives (with the "FDE" system as Full Disk Encryption).
Success story
I just closed a case as successful on a Seagate Momentus 7200 FDE.1 (ST9250424ASG). This disc was encrypted with a password requested at the boot step (not the ATA password on Bios). Unfortunately the number of bad sectors has increased in the boot area. The client had no further access to Windows (the client already had problems on the Windows partition before …),  or to the boot partition that requires the password for unlocking the disk.
So, I started to retro-analyze this protection system and make a simple development to unlock the disk without having access terminal (because it's also blocked) and without help of any other software (dedicated tools for firmware access do not yet solve this kind of problem).
After a significant research activity, I came up with a simple solution (called Unlock FDE) to unlock the user's data partition "with the USER password" and directly under Windows. All the ATA commands required for this "access" are (of course) "Vendor Specific" and have no documentation available on the Web…
Eventually, I was very lucky in this case, because the disk only had bad sectors (but not that many), but it was impossible to access this disk in a conventional manner nor with advanced data recovery tools.
Demo video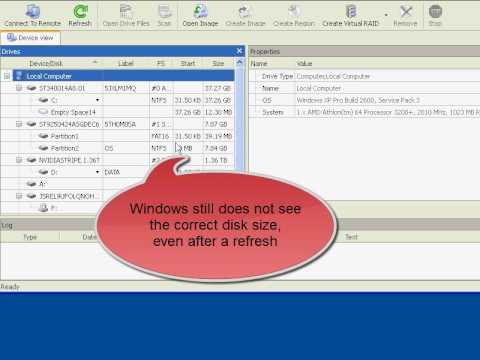 If interested by this solution as a service, feel free to contact us for a quote…
Compatible HDD
HDDSYNC is potentially compatible with all HDD brands and any hard drive. Still, we decided to provide an updated list of all proven models, that have been tested and successfully processed with HDDSYNC.
June 2010
Seagate
ST3500820AS, ST31000340AS, ST3360320AS, ST31000333AS, ST3320820A, ST35830AS, ST3360320AS, ST31500341AS
Maxtor
6Y120L00320011, 6B300R0061611, 6V250F0
Hitachi
HDT725050VLA360, HDT725040VLA360, HDT725050VLAT80
Samsung
HD160JJ
March 2010
Seagate
Barracuda 7200.10 500 Gb ST3500830AS, Barracuda 7200.11 500 Gb ST3500820AS, Barracuda 7200.11 1000 Gb ST3100340AS, Barracuda LP 1,5 TB ST31500541AS, Barracuda 7200.11 1500 Gb ST31500341AS, Barracuda 7200.12 750 Gb ST3750528AS
Maxtor
Diamond Max plus 9 160 Gb 6Y160M0, Diamond Max 10 200 Gb 6B200P0, Diamond Max 10 300 Gb 6L300R0, Maxline II 300 Gb 5A300J0, Diamond Max 11 500 Gb 6H500R0, 6H500F0, Diamond Max 22 500 Gb 9GT154
Hitachi
HDT725040VLAT80 400 Gb, HDP725050GLA360 500 Gb, HDT725050VLAT80 500 Gb, HDS725050KLAT80 500 Gb, HDT721010SLA360 1 Tb
Samsung
Half size : SP4002H, SP8004H, SP1604H, SP 1203N…
Full : HD320LD, HD321KJ, HD400LD, HD420LJ, HD403LJ, HD501LJ, HD502LJ
Western Digital
WD5000YS, WD5000KS, WD5000AACS, WD5000AAKS, WD5000AAVS, WD5000AAJS 500 Gb WD10EAVS-00D7B0 1 Tb WD10EACS-00ZJB0 1 Tb
HDDSYNC
December 2010
Major upgrade of HDDSYNC : the device is now fully compatible with laminar flows, a clean room is no longer required.
HDDSYNC can now be delivered with a specific kit allowing the device to be fully operational within a laminar flow environment.
Bulk requirements for the kit carrying HDDSYNC :
depth : 60 cms
Height : from 60 cms to 1 m
45 cms wide
November 2010
A new tool has been developed specifically for Samsung 1 To HD.
May 2010
A new centring tool is developed for Seagate HD with ring-shaped spindles.
January 2010
Major ergonomy update on the device with cranks on the side (CBC), for easier process and handling (prevent any hazardous moves on the disk platters).

Performance
Performance tests

February 2009 : we send Maxtor hard drives with failed motors to 7 of our main competitors as a test
End result : failure in the data recovery process for all of these companies
Which indicates that the HDDSYNC technology is an exclusive breakthrough for the data recovery business
The release of HDDSYNC by Recoveo brings a proven solution for facilitating success on seized hard drives, more specifically Maxtor, Seagate, Samsung  and Hitachi.
Possible scenarios

Failed motor (fall) : 60% of processed hard drives
Failed motor (fatigue, seize) : 35%
Disabled motor : 5%