Posts Tagged 'hard drive'
Unlock FDE
InVirtuel constantly brings innovative solutions for the data recovery market, HDDSYNC is not a unique development.
Unlock FDE is a software solution used by our technicians, enabling to access data on encrypted hard drives (with the "FDE" system as Full Disk Encryption).
Success story
I just closed a case as successful on a Seagate Momentus 7200 FDE.1 (ST9250424ASG). This disc was encrypted with a password requested at the boot step (not the ATA password on Bios). Unfortunately the number of bad sectors has increased in the boot area. The client had no further access to Windows (the client already had problems on the Windows partition before …),  or to the boot partition that requires the password for unlocking the disk.
So, I started to retro-analyze this protection system and make a simple development to unlock the disk without having access terminal (because it's also blocked) and without help of any other software (dedicated tools for firmware access do not yet solve this kind of problem).
After a significant research activity, I came up with a simple solution (called Unlock FDE) to unlock the user's data partition "with the USER password" and directly under Windows. All the ATA commands required for this "access" are (of course) "Vendor Specific" and have no documentation available on the Web…
Eventually, I was very lucky in this case, because the disk only had bad sectors (but not that many), but it was impossible to access this disk in a conventional manner nor with advanced data recovery tools.
Demo video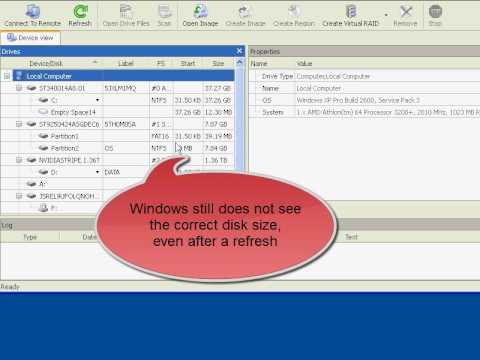 If interested by this solution as a service, feel free to contact us for a quote…
History
A few words of history
2007 : first cases of several Maxtor hard drives with seized and failed motors
Search for an existing technical solution : none
Late 2007 : our R&D department  came up with specifications prior to the development of HDDSYNC
January 2008 : creation of a HDDSYNC prototype, followed by different tests and tuning steps throughout 2008
Success demonstrated and validated on failed motors of hard drives branded Maxtor, Hitachi, Samsung and Seagate 7200.11, 7200.12 (the inox equipment commonly used with physically damaged hard drives is not working with these brands)
100% success rate over the last 2 years on hard drives with unscratched platters (list of compatible hard drives – non exhaustive)
About us
Recoveo (formerly InVirtuel) has been serving the French market, performing data recovery for multinational corporations, small companies, educational institutions and government agencies, since 2001. Complete recovery process is performed in-house, our technical staff being fully proficient in the most advanced techniques, on different devices (hard drives, RAID arrays, USB keys, SSD, NAS, flash cards…)
Having worked on thousands of case scenarios, we have developed various unique techniques, and thus having a thorough understanding of all the typical backups and file systems. Recoveo strives towards the goal of bringing a client's halted operations back on track, and restoring working conditions, with quick, cost effective, and high quality data recovery solutions.
To provide advanced innovation,  Recoveo has put together a dedicated Research and Development team which focuses primarily on new recovery techniques, such as the HDDSYNC solution.
Our customers, partners and employees are connected to a centralized extranet, with collaboration tools, that help them keep track of jobs & share knowledge. In 2008, Recoveo has achieved ISO 9001:2008 certification to ensure ongoing quality.
Created in 2001, ISO 9001:2008 quality certification for customer satisfaction
Activities :

Data Recovery
Physical data destruction (degaussing)
Forensics
Secured premises (500 sqm)
Air-conditioned laboratories  (200 sqm)
ISO 5 class 100 clean room